توضیحات
پلاگین اینسکیپ نسخه 3 – آخرین به روز رسانی
پلاگین اینسکیپ نسخه 3  – آخرین به روز رسانی
نسخه 3.3 – طراحی فراتر از مرزها
Enscape3D، نرم افزار و موتور رندری قدرتمند است که به صورت پلاگین و  جهت استفاده در نرم افزار های AUTODESK REVIT ، SketchUp ، Rhino ceros Archicad و  Vectorworks  می باشد.  در واقع این پلاگین یک موتور رندر در لحظه ( RealTime rendering ) به شمار می رود. شما می توانید با استفاده از این پلاگین در نرم افزار های مذکور ، خروجی های گرافیکی قدرتمند و  زیبایی داشته باشید . همچنین شما با استفاده از تکنو لوژی رندرینگ در لحظه این پلاگین قادر خواهید بود تا تصاویر پروژه های خود را در هر زاویه ای بهبود دهید.پلاگین Enscape3D به نحوی عمل می کند که شما نیازی به انجام کار خاصی نخواهید داشت. تنها با رفتن به بخش ENSCAPE PLUGIN در نرم افزار های مذکور و انتخاب آن و با کلیک کردن بر روی گزینه‌ی Enscape عملیات رندرینگ شروع خواهد شد. در واقع در کنار ساده بودن انجام این عملیات برای کاربر، این افزونه پردازش های بسیار فراوانی را انجام می دهد و در نهایت نتیجه ای بسیار عالی را برای شما ارمغان می آورد. همچنین پلاگین Enscape3D قادر به انجام رندرینگ های در لحظه دو بعدی و سه بعدی و VR نیز می باشد.
همچنین این پلاگین قادر می باشد تا تصاویر پانوراما را خلق کند. شما می توانید پروژه های گرافیکی خود را با استفاده از این پلاگین به تصاویری 360 درجه ای تبدیل کنید. تمامی این عملیات ها تنها با یک کلیک ساده در این پلاگین صورت می گیرد که از این رو کار برای کاربران بسیار ساده خواهد بود
پلاگین اینسکیپ نسخه 3  – آخرین به روز رسانی
NEW: Material Library
A simple way to improve the realism of your projects is to use the right materials. With Enscape's new Material Library, you can choose from predefined high-quality materials that are ready to use within your projects. Over 200 materials have been created to get you started and additional materials will be added to the library with future releases.
Materials such as wood, fabric, brick, and tile can be found in the new Material Library. These materials can also be imported into the Material Editor, where you can edit various elements to get the look and feel you need.
This new feature will save you time searching for and creating high-end rendering materials and makes it easy to improve the quality of your renders with very little effort.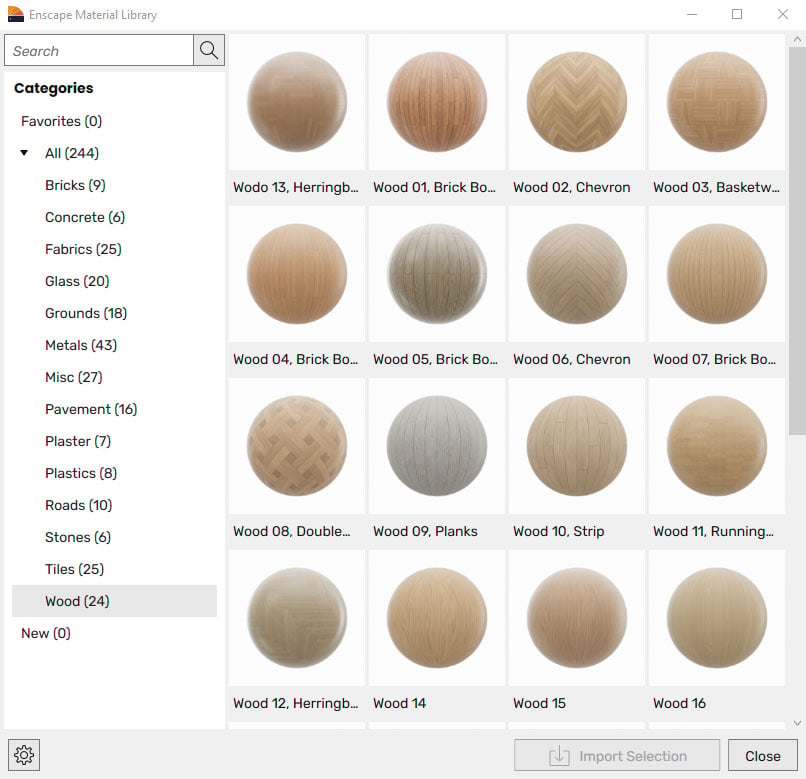 NEW: Material Editor Overhaul
The Enscape 3.1 Material Editor comes with not only a new interface but also new features and improved functionality.
Now it's quicker and easier to identify materials with a color and material type indicator in the material list. There is also a new self-illuminated material type, new icons, controls, and map tabs for improved usability.
Additionally, you can import and export material packages from within the Material Editor. This is particularly useful for individuals and teams who want to access certain pre-prepared materials from other projects.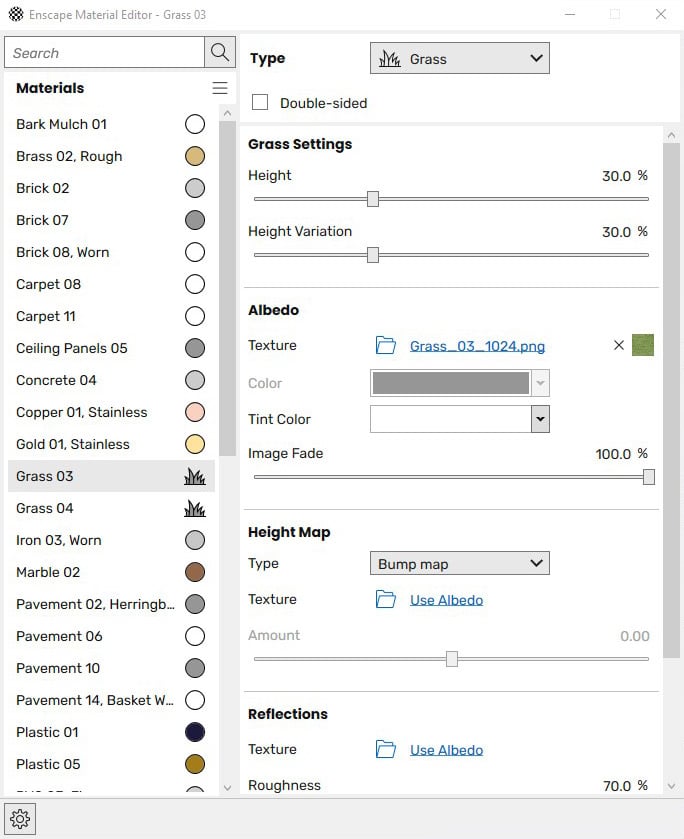 NEW: Support for NVIDIA DLSS (Deep Learning Super Sampling)
Enscape 3.1 comes with NVIDIA DLSS technology, which automatically improves performance. The deep learning-based upscaling technique renders internally at a lower resolution but outputs a clean and sharp high-resolution image for both high-quality videos and high-performance virtual reality walkthroughs.
With NVIDIA DLSS enabled, video rendering time decreases, and quality increases. You can enjoy improved real-time performance of walkthroughs and higher frame rates with much lower GPU requirements. This latest technology is available to users with an NVIDIA RTX graphics card.
With Enscape and NVIDIA DLSS, take advantage of the latest generation of high-res VR headsets and enjoy higher quality virtual reality experiences.
Read more about NVIDIA DLSS and Enscape and join our webinar on September 9:
پلاگین اینسکیپ نسخه 3 – آخرین به روز رسانی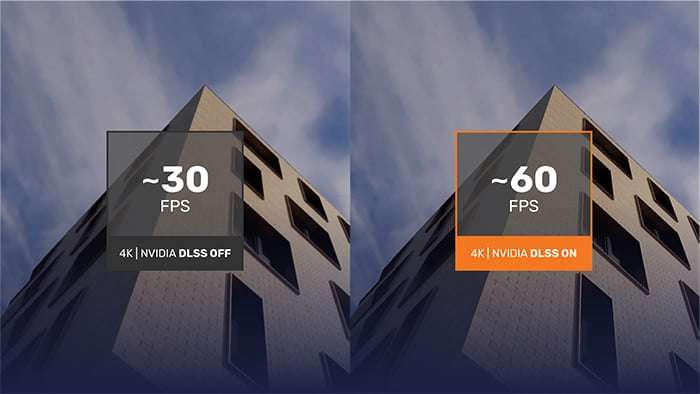 NEW: Panorama Gallery
panorama created from within Enscape are a popular way to showcase a design. They allow clients to independently navigate their way around a project from a web link or even a QR code.
To take this functionality one step further, we have introduced a Panorama Gallery – which is one of the most requested features from Enscape users.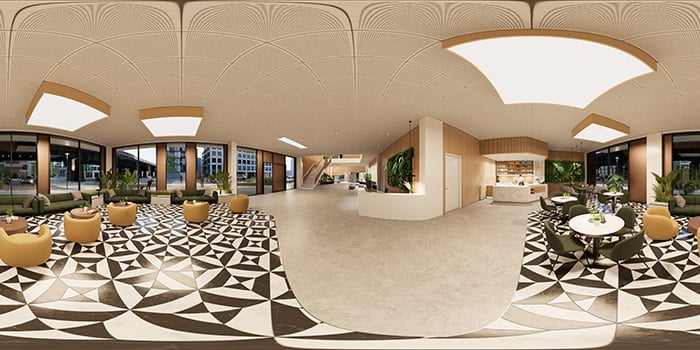 NEW: Material Editor for Revit
To help improve the Revit and Enscape material workflow, we have introduced a basic Material Editor for Revit.
This editor will support the 'General' material type, allowing you to apply video textures, self-illuminating materials, and displacement maps within Enscape itself. No more workarounds required!
This is just the first phase of the Revit Material Editor project. We are now working on providing better accessibility for future Material Editor features in Revit – so watch this space.
NEW: Simplified Assets
We have an exciting Enscape Asset Library update for you – we have launched a range of simplified assets that are low poly and come with a simple, white appearance.
These assets are ideal for use in early design phases to give clients and colleagues an idea of your vision without distracting them from the core elements of your design. They provide the perfect placeholders to give context, but without any complexity or specificity.
Within this initial batch of simplified assets are people, buildings, vegetation, furniture, and vehicles.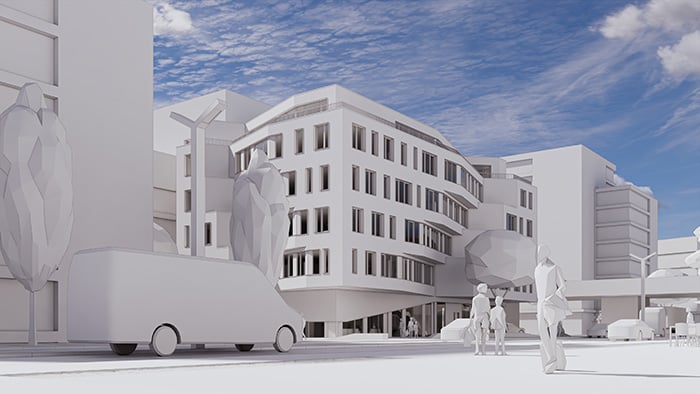 NEW: Ray-Traced Sun Shadows
NVIDIA RTX ray-tracing technology has been part of Enscape since 2019 version 2.6.1. It provides users with fast and accurate lighting and reflection calculations.
And now, with Enscape 3.1, you can enjoy even higher-quality renderings and realism with new ray-traced sun shadows.
Sharper and more accurate shadows will enhance the quality of your renders and can be enjoyed in any exported image, panorama exports, and rest mode in walkthrough.
The foundation of a beautiful rendering is its materials, and with the brand-new Material Library, you're set to have the right ones. Access more than 200 predefined materials to communicate your design aesthetic.
Enjoy a renewed Material Editor. With an updated interface, and new and enhanced functions added, such as Import/Export Materials, smoothly navigate your way around the feature as you fine-tune materials.
Curate an experience for your client with the Panorama Gallery. Available on the web UI, share and group Panoramas to better express your ideas and to communicate your story more clearly.
Support for NVIDIA Deep Learning Super Sampling (DLSS)
This deep learning neural network technology allows you to render at a lower resolution. This increases frame rates but still generates sharp frames that can go beyond native resolution rendering.
Materialize your ideas with the new Enscape features. Experience the ease of creating stunning renderings and achieve first-class quality in your designs.
Save time by not having to search for maps and material
Enhance realism in projects with this beginner-friendly feature
Tweak materials with new functions such as Albedo Color and Material Type
Benefit from improved icons and controls as well as map tabs for more space
Deliver impeccable presentations to get instant buy-in
Have more than one panorama accessible at any given time
Boost frame rates and maximize rendering quality and performance
Use the latest generation of high-res head-mounted displays with Enscape
Revit (2018, 2019, 2020, 2021, 2022)
SketchUp (2018, 2019, 2020, 2021)
Rhino (6.0, 7.0)
ArchiCAD (21, 22, 23, 24)
Vectorworks (2020 Service Pack 3, 2021)
Version: 3.1.0+51316
Released: 2021-07-21

Enscape Material Library
Enscape Material Editor overhaul and material import/export
View management improvements
Support for NVIDIA DLSS
NVIDIA real-time denoiser
Ray-traced sun shadows for still image capture
Simplified assets
Panorama gallery
Revit: Enscape Material Editor integration
پلاگین اینسکیپ نسخه 3  – آخرین به روز رسانی