توضیحات
reathe life into rendering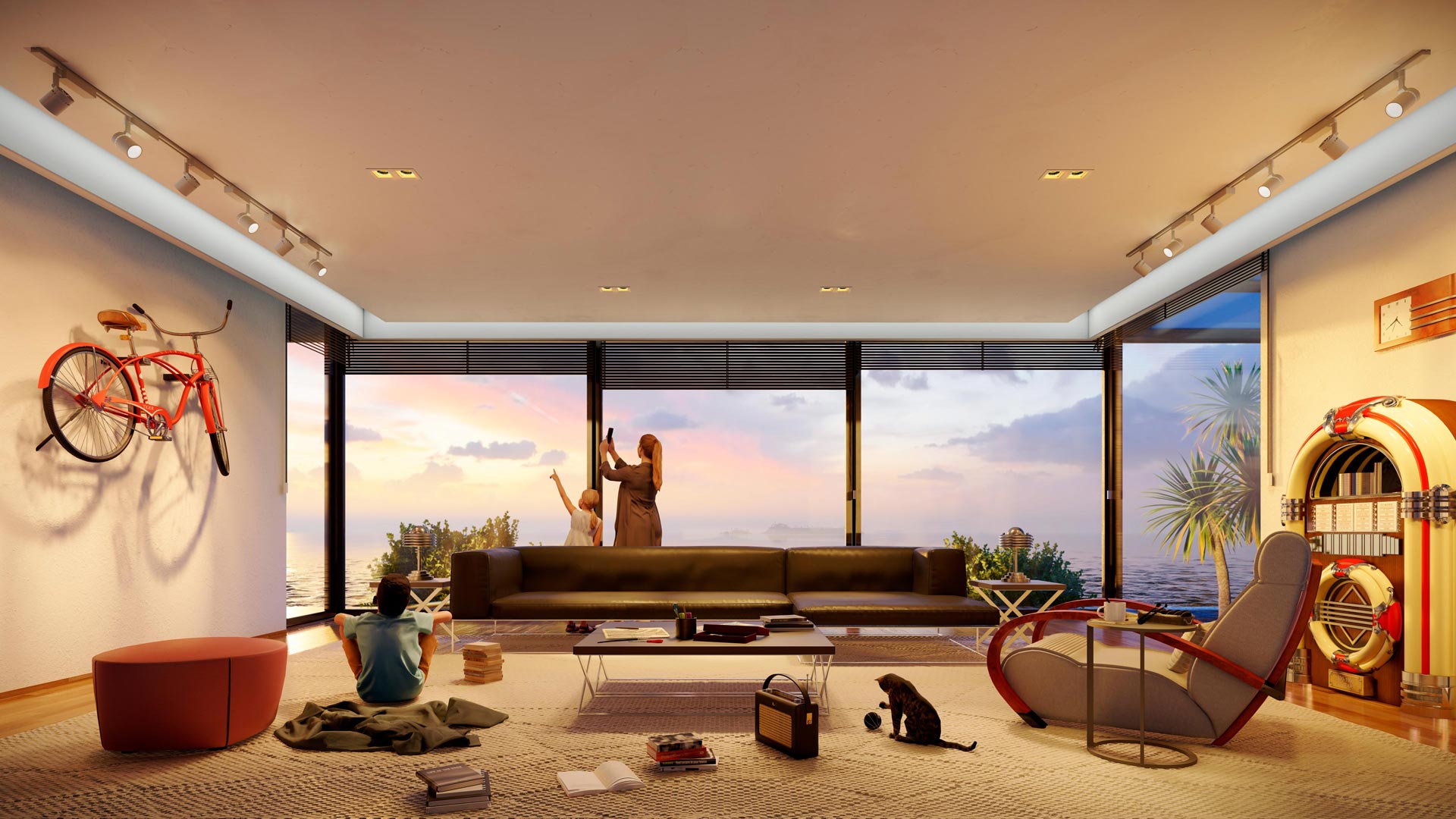 Lumion 11.5 helps architects capture the deeply personal connection between a home or building and the people who inhabit it. So instead of showing just four walls and a roof, render your client's dream home, render a story that ignites emotions, render the spaces where life happens.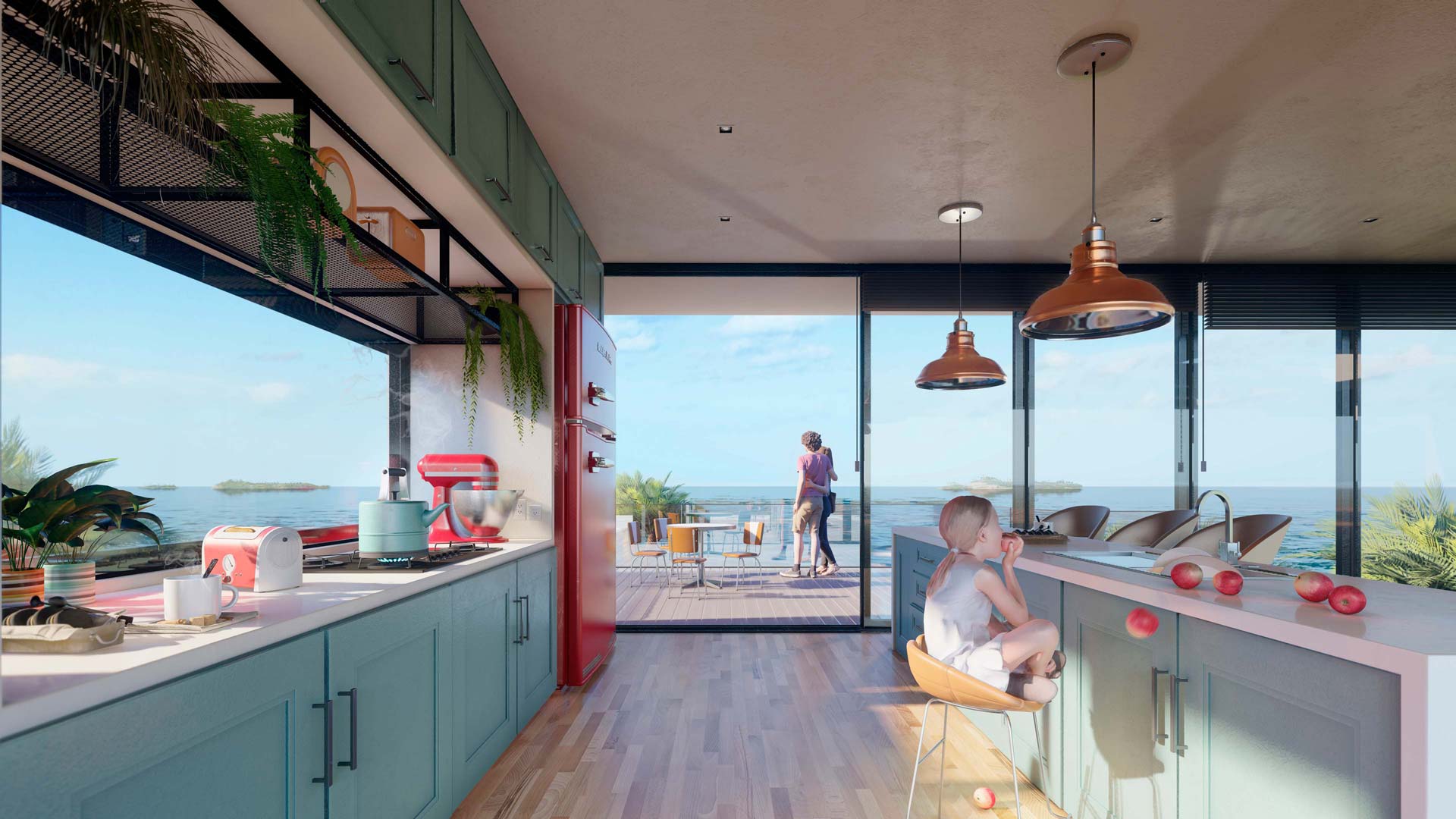 Reveal the unique identity of spaces with 73 new retro-inspired objects. You can find stylish appliances to uplift the mood in the kitchen, timeless pieces of furniture for living rooms and home offices, and many other items that add a human, personal touch to your renders.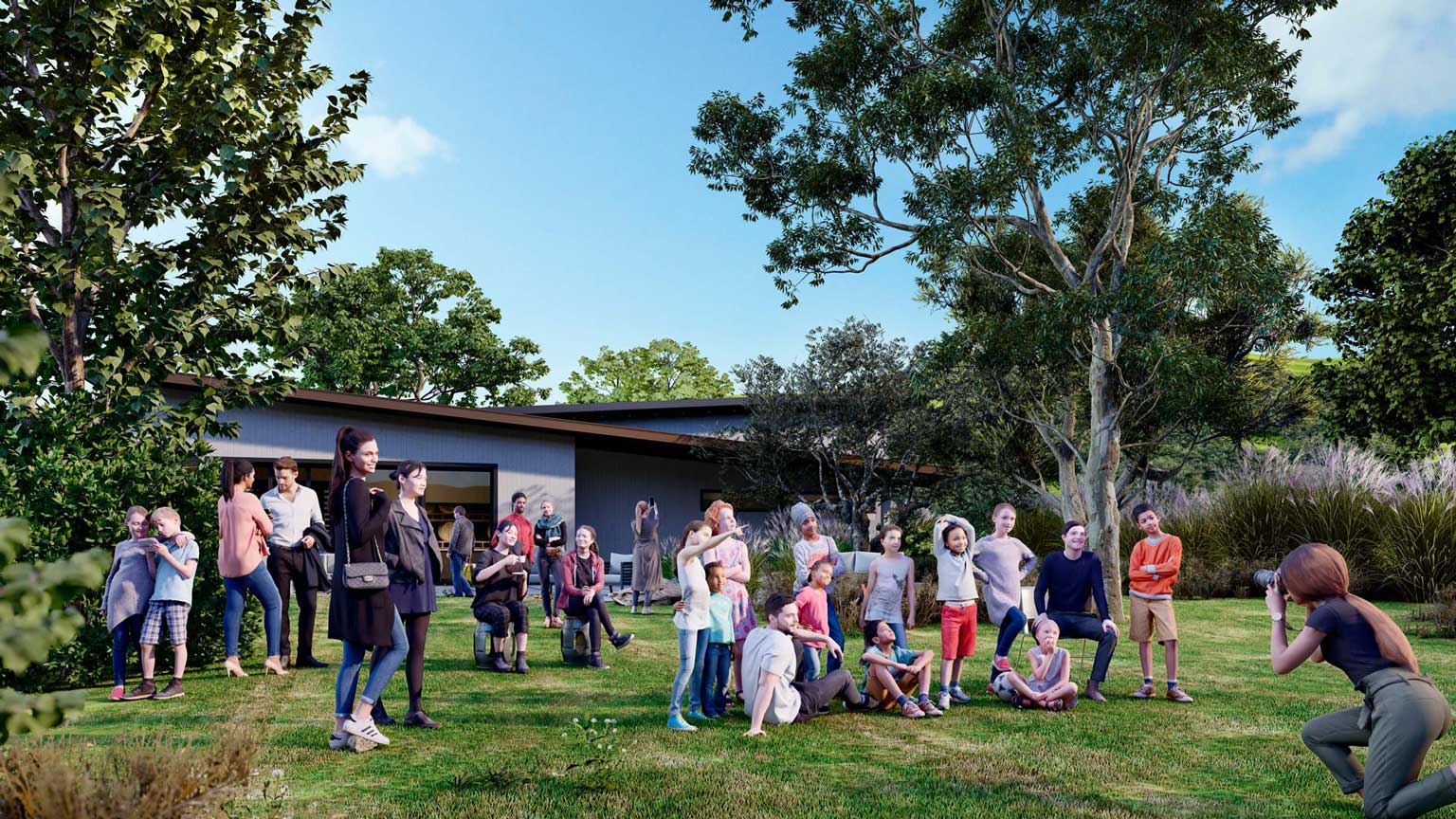 Express delight throughout your scene with 50 new, non-animated 3D characters. Whether it's a sunbather on the grass, a child looking up with wonder, or a couple enjoying a beautiful view together, these cheerful characters are ideal for showing the context, scale and emotion in the background of your project.
Orthographic views. Animated phasing. Raindrops streaking down the glass. Lumion 11 includes exciting new features and tools to help you breathe life into rendering and create beautiful results.
Close your eyes and visualize the real-life construction of your design. What do you see? How does it feel?
With Lumion 11, available today, realizing your vision for the design has never been easier. New features such as orthographic views reduce the effort needed to create plan and section views full of life, color and your own unique flavor. With animated phasing, you can show how the parts of your building connect and interact, creating a dance and a dialogue with the viewer.
Raindrops streak down the glass, volumetric fire casts a soft glow. The grass is softer, the light and shadow are more precise. From a wave of workflow and performance improvements to innovative features that capture the nuances of life, Lumion 11 energizes your professional output, brings joy to the rendering process, and helps you, the architect, focus on what really matters to you.
Overview of what's new in Lumion 11
Plan views. Section views. From elevations to isometric.
The new orthographic view feature in Lumion 11 lets you embed life, color and texture into all of your technical renderings. Instantly transform your standard documents into polished, one-of-a-kind images and videos, and maintain continuity with your other renderings without having to rely on other software.
You can make exciting, lively plans, sections, elevations and isometric views in just a few clicks, and express the simple yet beautiful perspectives of your vision throughout the design process.
Animated phasing (Pro only)
Model provided by Centric Bamboo and Gorilla Design.

Begin with a blank landscape. Slowly, trees rise from the ground. The walls of a residential home materialize as if out of thin air, and the living room, bedroom, and kitchen furniture fall into place from the sky.
With the new animated phasing effect, you can show the process behind your design's development or construction through the power of animation. Apply different transitions, make parts of your building appear and disappear and highlight what makes your building creative and unique.
When it's raining and you don't need to go outside, you get to curl up on the couch with a warm tea, turn on some soft music, and watch the raindrops streak across the glass.
In moments like this, it's easy to feel a sense of peace, of comfort, or perhaps a joyful melancholy. And now in Lumion 11, you can capture this universal mood with the new rain streaks option as part of the Precipitation effect. With only a slight movement of the slider, dozens of dynamic, intelligent raindrops move down glass surfaces, a gripping detail that would otherwise take hours to get right.
Volumetric fire (Pro only)
The soft glow of fire tends to draw people together, and in Lumion 11, you can tap into the warm and welcoming atmosphere of fire with the new volumetric fire object. Simply add the new fire to cast a feeling of coziness and warmth to your interior and exterior renders, creating an uplifting mood that naturally attracts your audience into the space.
Micro shadows for spotlights
Model provided by Angello Marques Arquitetura e Design.

When you turn on the fine-detail shadows in Lumion 11, the new micro shadows for spotlights activate and infuse a soft gradient of shadow into all the tiniest details wherever you shine a spotlight.
There is no extra step needed. With just a click, you'll create a sense of depth and realism that pulls you right into the scene.
Model provided by Beehive & King Crab.
In Lumion 11, the improved grass lighting technology helps connect your building design to the earth where it stands, turning the visual thrill of your renderings into a sensory one.
Without any effort required from you, all the grass materials, including the customizable 3D grass and the landscape grass, look as if they're softer and more representative of real-life landscapes.
Metallic car shader (Pro only)
With the new metallic car shader in Lumion 11 Pro, the cars in your renders take on an impressive realistic quality, making them barely distinguishable from the real thing. Every element, every light throughout your render, reflects off the car's chassis and windows, instantly and organically integrating the car into the project's surroundings.
401 new objects (some Pro only)
Rendering life into your renders means more than visualizing four walls and roof. It means revealing your house design in a forest of ginkgo balboas or Canadian poplars. It means showing the innocence of a child's bedroom with stuffed animals and furniture, or capturing an air of sophistication with stylish chairs, tables, bookshelves and more.
Some of the new objects in Lumion 11 Pro include:
– 61 fine-detail nature models
– 177 interior models
– 49 people and animals (some animated)
– And many others…
All the new objects are HD quality, and the recent additions bring the total number of items in the Lumion 11 Pro content library to 6,224*.
Model provided by Angular Lab.
With 63 new materials in Lumion 11, you can immerse your clients into a sensory experience, igniting memories of touch, smell, sound and sight. The new high-quality materials in Lumion 11 include:
– 17 wood floors and sidings
– 5 carpets
– 5 bricks
– 3 slate panels
– 3 sandstone tiles
– 2 asphalts
– 2 snow
– And many others…
Many of the materials in Lumion are of the highest quality, and they can be altered via displacement, weathering, soft edges (Pro only) and more. With the new additions, the total number of materials in Lumion 11 is 1,292*.
In Lumion 11, you can now import your own custom IES spotlights to connect your spotlight objects with the Illuminating Engineering Society (IES) lighting profiles.
With custom IES spotlights, you no longer have to tweak and customize your spotlights; simply upload the relevant IES profile and recreate the exact lighting arrangement you need, illuminating the best parts of your project.
Lumion LiveSync lets you create a seamless, real-time rendering connection between the leading CAD programs and Lumion, including SketchUp, Revit, ArchiCAD, Rhino, Vectorworks and AutoCAD. With LiveSync, it's possible to get a feeling of your work-in-progress model immersed in its natural environment, cast under photorealistic skies and lifelike weather, and illuminated with diverse lighting conditions.
Lumion LiveSync continues to extend to new CAD packages as part of its functionality, and the latest in this long list of real-time rendering possibilities is LiveSync for BricsCAD, available in Lumion 11.
Lumion 11 now features a RAL color picker to ease your color selection and accurately connect it to the European color standard. No more guessing, no more 'close enoughs'. Show your rendering with beautiful, accurate colors to manifest the life and emotion of your designed spaces.
High-quality viewer and theater preview
Model provided by TEN OVER STUDIO.
Get even closer to the final look and feel of your rendering with the updated high-quality preview effect. In Lumion 11, you can now apply the high-quality preview in the Lumion Theater Mode and the Lumion Viewer, letting you see a high-quality version of your rendering before you actually hit the render button.
Artistic panorama effects
Model provided by Obra Visuals.
In Lumion 11, you can now apply several artistic effects to your 360 panoramas, which you can experience on a mobile phone, tablet or many common VR headsets. Transport your client into the living room of a residential sketch; experience the height of your commercial building with a fun painting effect applied.
No matter what you intend to do with the panorama, the new artistic panorama effects expose the concept behind your project, and the meaning you've given it.
Other new features in Lumion 11
In addition to the features above, Lumion 11 also comes with an updated user interface designed to create an intuitive and user-friendly experience as you work in the Lumion Editor or render out an image, movie or 360 panorama.
If it's your first time using Lumion, you can enjoy the in-program basic tutorials and reduce the already-short learning curve of Lumion.
An improved color picker helps you quickly and accurate choose the right colors. Custom value inputs allow you to enter custom values when crafting your scene and rendering, and the new proxies for better FPS setting helps you get the most performance out of Lumion 11 when building large and/or complex scenes.